Thurber House Presents a Doggie Photo Contest in Conjunction with Evenings with Authors Event featuring Merrill Markoe!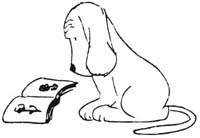 Enter the first ever Thurber House Doggie Photo Contest, as part of the Evenings with Authors featuring consummate dog lover, Merrill Markoe, on Friday, January 23 at the Columbus Museum of Art at 7:30pm.
The Guidelines
Entries may only be sent via email

Photos may be either color or black & white

Photo should be sent to Meg Brown at megbrown@thurberhouse.org. Please include your name, telephone number, and the name of your dog in the email

Must be present at the event to win. Tickets are $18 in advance ($15 for students and seniors) and $20 at the door ($18 for students and seniors). Tickets can be purchased online at: www.thurberhouse.org or by calling 614-464-1032. NO real dogs allowed at event

The deadline for submission is Thursday, January 22, 2009 at noon.

The Judge
Merrill Markoe, a former finalist for the Thurber Prize for Humor, is an Emmy Award-winning writer who will read from her latest hilarious novel, Nose Down, Eyes Up, about four talking dogs, a man who won't grow up, and his confused relationships with women. She will award two lucky dogs with the honor of either being "Most Likely to Talk" or "Most Likely to Be Portrayed" in Markoe's next book.

The Prizes

Gift certificates, one for a pet bakery and one for a pet boutique

A signed copy of Markoe's latest novel as well as a copy of her Thurber Prize finalist, Walking in Circles before Lying Down (also about dogs, of course!)

A $10 gift certificate to the Thurber Country Bookstore at Thurber House

A picture of your winning doggie signed by Merrill Markoe!